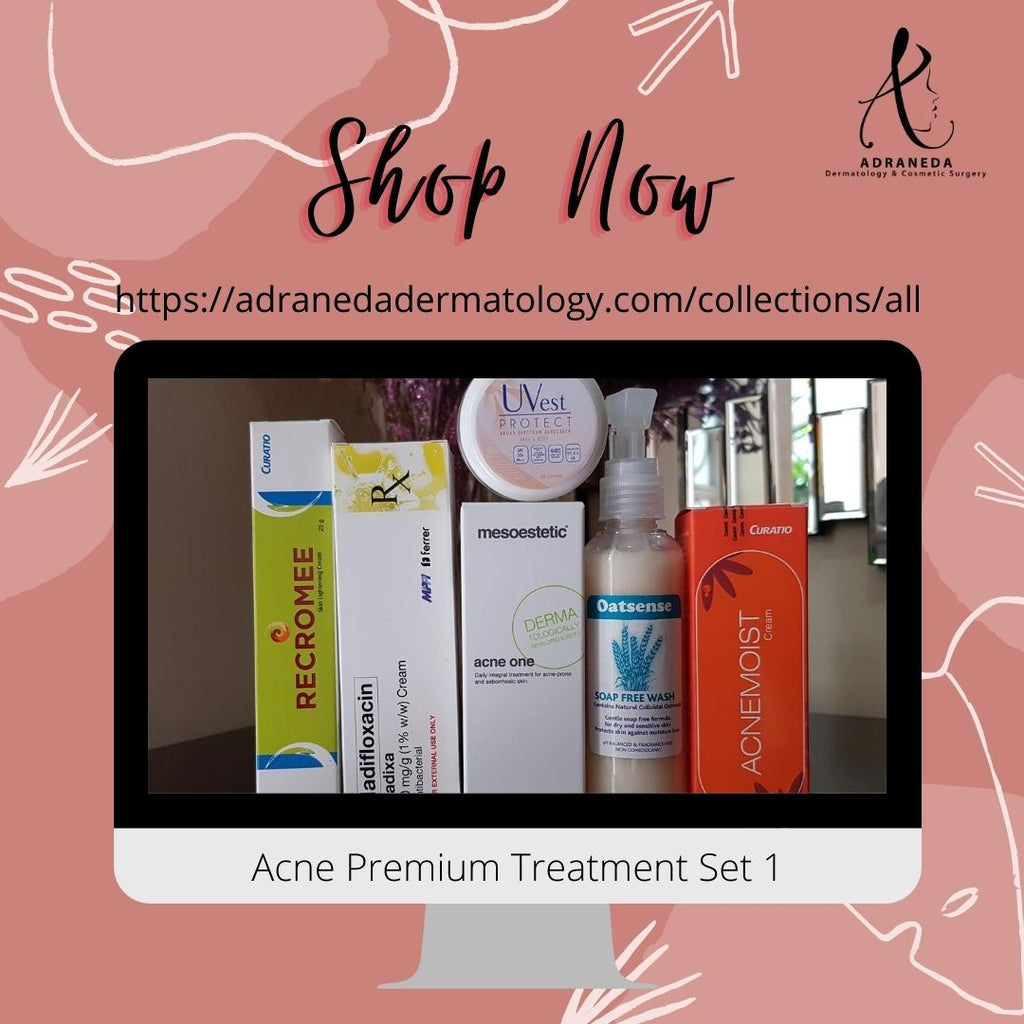 Acne Premium Treatment Set 1
Sale price
₱4,145.00
Regular price
₱6,375.00
Acne Premium Treatment Set 1 is your complete treatment set for acne and acne marks! Carefully selected combination treatment to get rid of acne resistant to topical treatments and for acne due to hormones. It contains the following:
1. Oatsense wash from Australia 100ml - 
 Natural Colloidal Oatmeal Gentle Soap Free Formula                                              For dry and sensitive skin                                                                                  Protect skin against moisture loss pH Balanced                                              Fragrance Free                                                                                                        Non Comedogenic
Indication: For dry skin, eczema, psoriasis, rashes, acne-prone skin
Benefits: Oatmeal has anti-inflammatory properties and is perfect for most skin types, even the most sensitive skin 
Oatmeal contains saponins, a cleansing agent, and can therefore be used as a mild soap

Oatmeal is moisturizing and helps remove dead skin cells.
Oatmeal can help treat acne, eczema, rosacea and rashes
Oatmeal can helps relieve symptoms of aging skin
2. Nadixa antibiotic cream 25g - Nadifloxacin is a topical fluoroquinolone antibiotic used for the treatment of acne vulgaris. It is also used to treat bacterial skin infections. It is usually used mainly for cases of acne vulgaris resistant to traditional anti-acne antibiotics e.g. clindamycin and erythromycin.
 Best used for patients who are already resistant to topical clindamycin or erythromycin.
3. Acnemoist 25g - Acnemoist is designed for dryness caused due to acne medication for acne patients.  It is specially designed to suit acne skin as it is non-oily, feather-light and provides intense hydration. Acnemoist provides intense hydration without making the skin look oily. Acnemoist is non-comedogenic (does not block the pores) and is dermatologically tested.
Benefits
Acnemoist is a feather-light moisturizer for daily use.
Acnemoist is easily spreadable, non-comedogenic and is oil-free.
It is dermatologically tested and does not cause any irritation to the skin.
It prevents redness and dryness of the skin.
It keeps the skin hydrated all day long.
4. Mesoestetic acne one from Spain - 
Cream for daily use designed for optimal control of skin types prone to acne and seborrhea. The unique association of complementary and synergistic ingredients of m.acne complex™ simultaneously stimulates exfoliation of the pilosebaceous canal, reduces sebum production, controls bacterial proliferation and lessens redness.
Ingredients
Bexaretinyl complex
Exfoliating retinoid that boosts cell renewal while simultaneously possessing depigmenting properties that mitigate post-inflammatory acne-related hyperpigmentation.
Serenoa repens
Regulates excess androgen by inhibiting 5α-reductase.
Indications
For effective, rapid and convenient control of skin types prone to moderate acne and seborrhea.
Instructions for use
1-2 times a day
Apply a fine, even layer of acne one once or twice a day on cleansed skin, avoiding the eye contour and contact with mucus membranes. Subsequent application of dermatological sun protection SPF50+ is recommended in the case of exposure to solar radiation.
5. Recromee 25g - 
Recromee is a skin lightening cream, targeted towards reducing dark/black spots present on the face post-acne (or pimples) to restore beauty.
Recromee has three active ingredients with a proven clinical record for skin lightening.
Recromee is oil free, non-irritating and non-comedogenic (i.e. it does not block the pores).
Unlike other skin lightening creams, Recromee is not photosensitive, so can be applied even during the daytime.
Benefits
Recromee comes with a unique spot applicator to enable the patients to effectively apply it directly over acne spots.
The ingredients in Recromee have been known for their efficacy in skin lightening.
Recromee is easily spreadable, non-comedogenic and is oil-free. It is also a non-irritant to the skin.
Recromee is steroid-free and hence it is devoid of side-effects.
 Ingredients

Azeloglicina
Kojic Acid Dipalmitate
Lactokine
6. UVest Sunblock 20g - made in Australia;
for face & body
Broad Spectrum sunblock SPF 50+, PA +++ (UVA, UVB, UVC, IR, VL)
Lightweight, non- sticky, non-greasy
with Vitamin E & Hyaluronic acid
Paraben-free
4 hours water and sweat resistant
Shipping:
Our default shipping courier is Gogo Xpress. Gogo Xpress usually ships in 3-5 days. If your area is not serviceable by Gogo xpress, we will contact you for other shipping options.
For Grab/Lalamove shipping, we do not offer COD. Please contact the clinic staff for payment and shipping methods.
Returns:
IF UNOPEN, Send the item back within 30 days for a full refund less shipping costs. IF the listing has FREE SHIPPING then you will be charged a shipping fee of Php 80 pesos for NCR, Php 120 for Luzon, Php 140 for Visayas and Php 160 for Mindanao, unless WE made the error. We WILL NOT accept any used/opened merchandise as a return/exchange. This INCLUDES if the plastic wrap or seal is broken on the item. IF we made the error, please contact us ASAP.
---
Share this Product
---
More from this collection