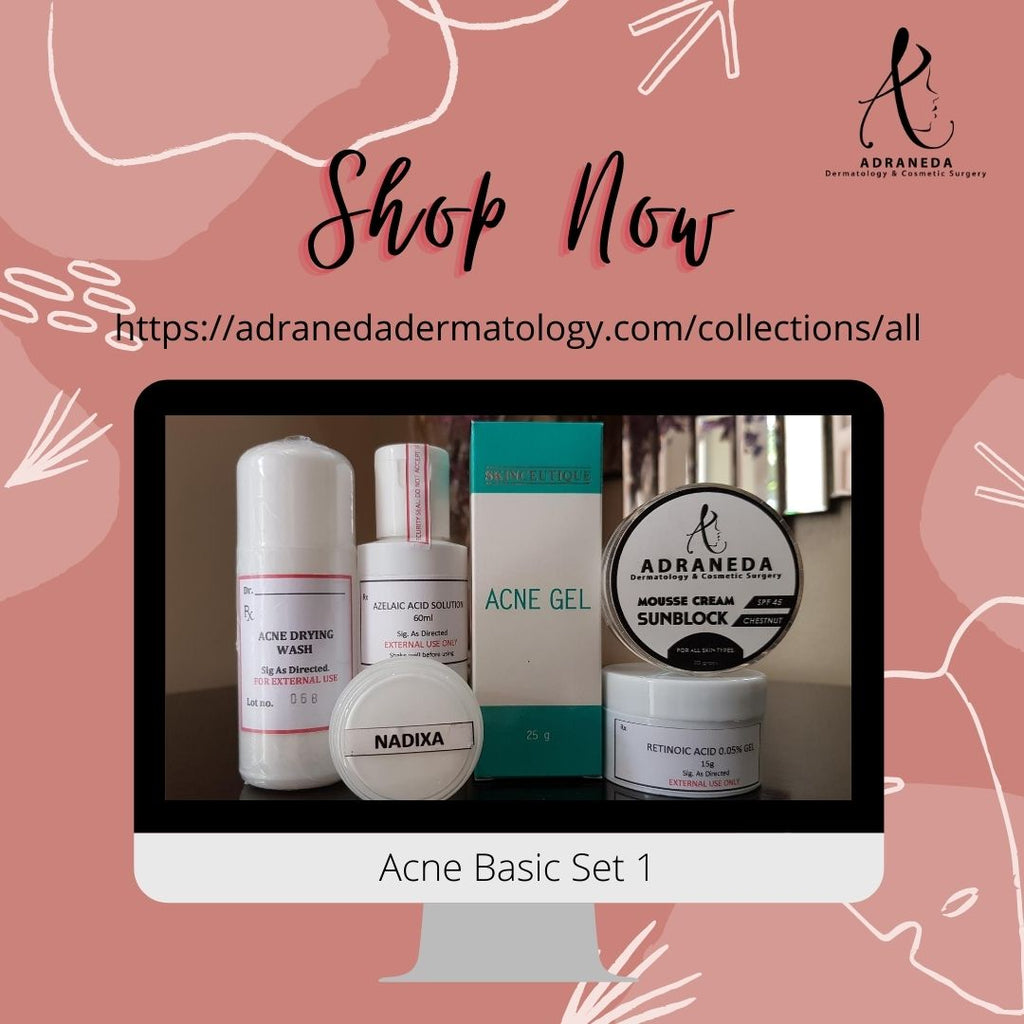 Acne Basic Set 1
Sale price
₱2,655.00
Regular price
₱2,950.00
Acne Basic Set 1 - for patients with inflamed acne, resistant to topical Clindamycin and Erythromycin
Includes:
1. Acne Drying Wash 60ml - active ingredient is benzoyl peroxide, which has anti-inflammatory properties
How to use: Lather on wet skin for 1-2 minutes then rinse well. Use 2x a day.
2. Azelaic Acid Toner 60ml - has antibacterial, anti-inflammatory and whitening properties. It can help dry acne, lessen skin redness, and lighten dark spots. 
How to use: Apply on whole face using a small piece of cotton. Initially use every night. May increase to 2x a day as tolerated.
3. Nadixa (Nadifloxacin) Topical Antibiotic 10g repack - Nadifloxacin is a topical fluoroquinolone antibiotic used for the treatment of acne vulgaris. It is also used to treat bacterial skin infections. It is usually used mainly for cases of acne vulgaris resistant to traditional anti-acne antibiotics e.g. clindamycin and erythromycin.
 Best used for patients who are already resistant to topical clindamycin or erythromycin.
4. Retinoic acid 0.05% gel 15g - Retinoic Acid Gel 15g - Topical retinoids are approved by the Food and Drug Administration (FDA) to treat whiteheads, blackheads, and acne lesions in children age 12 and older and in adults. Topical retinoids are also prescribed to help diminish signs of aging, including hyperpigmentation (dark spots on skin), fine lines and wrinkles.
Possible side effects: 
burning and itching (in absolute the most common side effect), contact dermatitis, dryness and skin irritation.
How to use: Apply a pea size amount on the face, spreading evenly. Initially use every other night, then after 2 weeks, shift to every night as tolerated. Apply sunblock in the morning. Avoid direct sun exposure.
5. Skinceutique Acne Gel 20g - active ingredient: Niacinamide
How to use: Apply 2x a day on whole face.
6. Mousse Sunblock SPF 45 20g - Mousse sunblock is a non-greasy, tinted, mousse finish, sunscreen with SPF 45.                                                                                     - Gives a light coverage, makeup finish.                                                                       - Best for all skin types.
How to use: Apply on whole face, 30 minutes before sun exposure.
PRECAUTION:
Do not apply this medicine to windburned or sunburned skin or on open wounds
Tell your doctor if any of these symptoms are severe or do not go away:
itching
burning
stinging
tingling
tenderness
dryness
Shipping:
Our default shipping courier is Gogo Xpress. Gogo Xpress usually ships in 3-5 days. If your area is not serviceable by Gogo xpress, we will contact you for other shipping options.
For Grab/Lalamove shipping, we do not offer COD. Please contact the clinic staff for payment and shipping methods.
Returns:
IF UNOPEN, Send the item back within 30 days for a full refund less shipping costs. IF the listing has FREE SHIPPING then you will be charged a shipping fee of Php 80 pesos for NCR, Php 120 for Luzon, Php 140 for Visayas and Php 160 for Mindanao, unless WE made the error. We WILL NOT accept any used/opened merchandise as a return/exchange. This INCLUDES if the plastic wrap or seal is broken on the item. IF we made the error, please contact us ASAP.
---
Share this Product
---
More from this collection